These ones are hot!

... and absolutely free!!!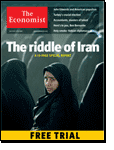 You probably know titles like "The Economist."

That one is available for US residents only but there are a lot who are available for most locations.



Click here to choose your free magazines from a list of hundreds. To easily determine which magazines are available in your area, click this list of free magazines and look at the icon before the magazine title. A globe icon means the title is available in all countries.


Here are the hottest issues for the week:



Oracle Magazine
Contains technology strategy articles, sample code, tips, Oracle and partner news, how to articles for developers and DBAs, and more.

Profit Magazine
Is distributed to more than 110,000 C-level executives* and provides business leaders with a road map on turning their technology investments into top and bottom line advantages.

Vulnerability Management for Dummies
Get all the Facts and See How to Implement a Successful Vulnerability Management Program.

Website Magazine
Has tapped premier talent in the Internet industry for our content and each and every issue will contain practical advice and insights for website owners.
Remember, there are hundreds of other issues, click here to browse and choose your
free magazines
.
To easily identify which magazines are available in your countries, I suggest that you click on the screen shot (below) to enlarge.